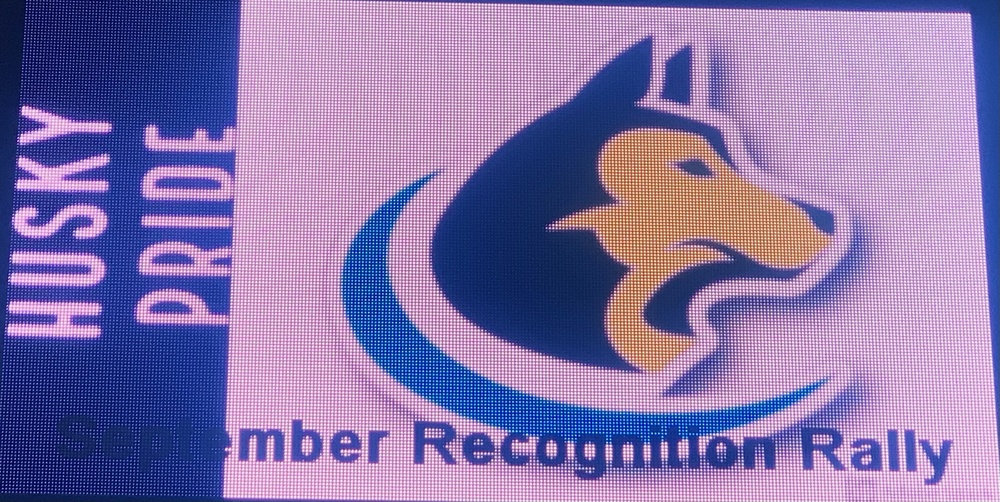 September Recognition Rally
Cody Bobolz
Friday, October 02, 2020
The September Husky Recognition Rally was held on Tuesday, September 29th in the South gym. The students of the month were announced and recognized during the rally. Teachers and staff members nominate students who best demonstrate any of the 4 S-RC pillars- integrity, innovation, accountability, or service. These students received a certificate, a SOM t-shirt, and lunch on the principal. Congratulations to these students on their outstanding work! The monthly PBiS drawing was also held. Middle school students received a free bowling pass and the high school winners received a gift card to Valentino's or one of the BARK Park spots.
Meet our September Students of the Month and read the teachers nominations:
6th- Lamara Weddle This student was nominated for the pillars of accountability and service. She consistently volunteers to help other students in class. This student SHINES in my class! She is not only willing to help out other students and the teacher when called upon but is also cheerful and kind when doing so. She volunteers willingly in class and is a great role model on how to be an active learner! Recently, when I had a substitute teacher in my classroom and would need a student to lead an activity she enthusiastically volunteered and did a fantastic job. I can always count on her to come to class prepared. She comes to class with her homework complete. She also comes prepared with all of her materials. Her work is turned in on time and done neatly. Her accountability and dedication to being a good student does not go unnoticed and it is appreciated.
7th- Kendall Nickolite
This student was nominated on the pillars of integrity, service, accountability. She is always prepared for class. She listens attentively to what is being said by the teacher or other classmates. She asks for help when needed, and also is willing to assist other students. She can work with anyone in the class and is just a ray of sunshine every single day! During morning advisory she often takes it upon herself to straighten up tables and chairs to help maintain social distancing in the classroom. When she encounters a challenging assignment she doesn't give up but instead works even harder to make sure she can get the content figured out.
8th- Andy Prokupek
This student was nominated for integrity. This student is one of the nicest young men I have ever met. Each morning he comes to school with a smile on his face. He is very polite and always cares about the needs of others. He is frequently heard giving encouraging words, asking how others are doing, holding doors open for people and each Friday he says, " I hope you have a great weekend. I'll see you Monday" Overall, he is a great kid and I feel so lucky to be his teacher.
9th- Ozzy Lowther
This student was nominated for service and accountability. He has had a great attitude at school this year. I am very proud of the way he has taken responsibility for his academics. He has done a great job utilizing class time to get his school work done. The thing I am most proud of is his willingness to assist classmates with their school work. He has been awesome helping me with other students that need extra study time for a test and reading to others when needed. He has been able to do all this AND he works a construction job after school and on the weekends. He has had a great attitude at school this year. I am very proud of the way he has taken responsibility for his academics. He has done a great job utilizing class time to get his school work done.
10th- Alexa Carter
This student was nominated for service and integrity. She has gone above and beyond in Student Council. She has organized t-shirt designs, contacting companies and ordering. She also created the awesome locker designs for Homecoming Week. She took on these tasks with a positive attitude and has been a great communicator to ensure that everything runs smoothly. Shout out to her for her hard work! She holds herself to a high set of standards in the classroom. She is honest and forthright and always wanting to achieve a better understanding of concepts or is always willing to redo an assignment or test to improve her scores. She is a student that can be counted on for an honest opinion whether it is another student, a teacher or a substitute.
11th- Emily Willis
This student was nominated for all four pillars- integrity, innovation, service, and accountability. She was outstanding in the organization of Homecoming Week and all things with planning! She put in tons of time with planning and organizing the activities for the pep rally. I appreciate her time and dedication to Student Council. In addition, she is an excellent student in the classroom. She participates and holds herself to high standards to learn the standards and help other students when needed. She has been hard at work since the beginning of school. She has been balancing being FFA President, Dance Team Co-captain, Student Council, and Volleyball very well. She is always doing her best and giving her all in each of her activities and is a FANTASTIC leader in them as well! When she needs help she reaches out, and when she notices something is up with someone else she makes sure to see if everything is okay! She has been an EXCEPTIONAL student! She has been an active voice in English 11, grasping tough concepts quickly and discussing them.
12th- Mickey Hoatson
This student is being recognized for the pillars of integrity, service, and accountability. He is an outstanding student who always strives to be the best version of himself that he can be. I have seen him step into a huge leadership role as a senior this year in the classroom. He keeps others on task, holds his classmates responsible for their actions, has enormous pride in his school and what he believes in. A number of times I have heard him put students in their place when those students are complaining about masks, school rules, the school itself, and teachers in the building. He is just the all-around definition of integrity. He is a student who has always had high expectations for himself. I can count on him everyday to show up with a positive attitude and strong work ethic. He has always shown great school spirit and is proud to be a husky. He can be counted on to set a great example for his peers both in the classroom and on the field. He is a senior leader who is working to improve our culture at S-RC!
Middle School PBiS drawing winners:
(Left to Right): Celsta Isordia (7th), Makinna Lovell (6th), Brea Schaefer (6th), Caleigh Albers (7th), Taylor Morrison (6th), Keegan Osantowski (7th)
High School PBiS drawing winners:
Back row (left to right): Colin Wingard (12th), Jese Gutierrez (12th), Kadin Bluel (10th)
Front row (left to right): Jersin Gutierrez Lemus (10th), Angel Barnes (10th), Taryn Fischbach (10th)