On Thursday, April 28th the Shelby FFA Chapter hosted their 7th Annual FFA banquet. Members, parents, and guests were invited to join the chapter in recognizing our members and their accomplishments throughout the past year.
Members were recognized for outstanding membership and received their FFA degrees.
Discovery Degree - Hayden Reznicek
Greenhand Degree - Ethan Fjell, Nicole Martensen, and Bailey Turpitt
Chapter Degree - Angel Barnes, and Alexa Carter
State Degree - Emily Willis
The Honorary FFA Degree was presented to Mr. Mark Nebuda and Mr. Turner Trofholz for their outstanding support and service to our FFA Chapter.
Finally, the 2022-2023 FFA Officer Team was installed, congratulations to the following members:
Aurora Slusarski - President
Aubree Siffring - Vice President
Jenna Logan - Secretary
Angel Barnes - Treasure
Alexa Carter - Sentinel
Rylie Carter - Reporter
Nicole Martensen - Historian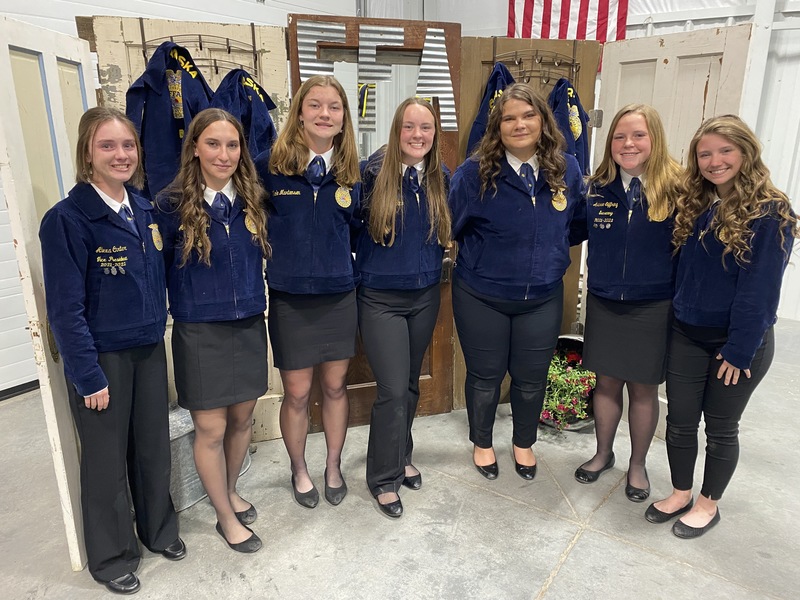 2022-2023 Shelby-Rising City FFA Officer Team