Last week February 21st-25th FFA Members, Students, and Staff at Shelby-Rising City Celebrated National FFA Week! This is a week that is used to recognize the FFA Program and promote the FFA Chapter in the school. This year the Shelby - Rising City FFA Chapter hosted a week full of activities for students and staff alike.
On Monday our dress-up day was Blue and Gold day. FFA members were encouraged to wear their Official Dress and everyone else to show their Husky Pride.
Tuesday was America Day and we hosted a Truck Contest. Our very esteemed judges braved the cold to judges our trucks and select the best in each category. Congratulations to all of our Truck Contest winners and thank you for participating!
Dirtiest - Grant Brigham
Cleanest - Kole Eickmeier
Newest - Grady Belt
Oldest - Aiden Zimmerman
Judges Choice - Emily Willis
On Wednesday we celebrated by dressing in Camo.
Thursday was Wild About FFA Day and all students were invited to experience the FFA Petting Zoo. This year our petting zoo included a horse and a bottle calf brought in by Nicole Martensen, A pig brought by the Ruth Family, a lamb brought by the Siffring Family, chicks hatched by Mrs. Segner's Animal Science and Intro to Ag Class, and Scout the Dog brought in by Emily Willis.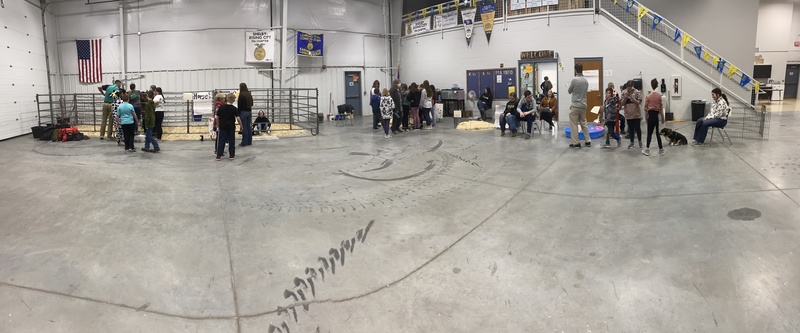 All students had a great time hosting and experiencing the petting zoo. Please see our chapter Facebook page for more photos from last week.
On Friday we rounded out our week with our Appreciation Breakfast for Farmers and School Staff members. We had a great turnout and appreciated everyone who has supported our chapter this school year.
We also hosted our 2nd Annual Ag Olympics on Friday for the school. We had four teams compete in three Olympic Events. Elementary students on each team participated in the sheep shearing contest by trying to collect the most cotton balls from their sheep. High School and Middle School Students worked together to catch as many eggs in their pillowcases as they could in our Egg Toss Competition, and in the final competition our High School students had to steer the staff members to get their animals back to their pens in the Great Barnyard Escape. Thank you to everyone who participated and supported the 2022 SRC National FFA Week Festivities.